SOMA Housing Co-Operative Ltd
CATCH UP
Well, it's been a while since any one was able to update the web site. Quite a lot has happened in the last two years which hasn't been reported or communicated to SOMA members. COVID Lockdown did a lot of damage to the organisation which had already experienced several catastrophe's. Beginning in July 2013, the year SOMA was registered with the FCA, I had to give up the family home and leave Oxford because of the exceptionally high rents in the city. Relocating to Dorset, I began commuting to Oxford in order to continue managing SOMA and also to spend time with my family. In June 2017 I was again forced to relocate, this time I moved to Lancashire for family reasons. I was able to secure tenancy of a one bedroom flat, social housing in Todmorden being managed by Together Housing Association Ltd.
Nighmare on Social Housing Street
However, this did not turn out as I had hoped. Malicious neighbours immediately began making false allegations, some were very serious and which resulted in a Injunction lasting 2 years, for the alleged Anti Social Behaviour. Until July 2022 I was facing eviction as well as imprisonment. I found himself alone and without support because my dear friend, colleague and co-worker Jeff Peirce had died tragically in March 2017. I was not entitled to Legal Aid and there wasn't a Duty Solicitor available at the Court. There were numerous instances during these four years where housing officers and some tenants bullied other tenants like Eddie Physouni, in the process committing unlawfull acts, like perjury. To make matters worse, safe guarding mechanisms like "Mediation" were wilfully ignored by ASB Managers and CEO's alike, as well as staff employed in Customer Care roles. The landlord's solicitors some how made sure that system information diagrams, crucial evidence which I had submitted to the court for my defence - did not appear in the Court Bundles.
My appalling experience is now being developed into a Case Study. This Case Study will be made available for use in the training of SOMA members and managers. It is also listed as a topic for discussion at the 10th Anniversary Celebration event on 16th September 2023..
SOMA 10th ANNIVERSARY CELEBRATION
Now I bring you news that SOMA members will be celebrating 10 years since we Registered as a Housing Co-Operative and also as a Company Limited by Guarantee. We now have more supporters and sponsors who are helping by providing the site for the event and the equipment to make it all happen in style.
OUR SPONSORS
Sid Pws is making part of his land in Kidlington available free of charge. The site is adjacent to the river Cherwell and SOMA was interested in purchasing the plot as the UK entered Lockdown. Our plans for it's development for social housing, etc can be found on this web site in the archives.
Jeff Turner (Wide Boy Media) operates a production company and has offered the free use of the production equipment that we need to run the event. This includes a marquee, electricity generator, lighting and audio equipment.
Barmy Army are returning to play in Oxford, the band members home town in the 80's. Nowadays the bassist Bob "Kluk" lives in Somerset with Maria who sings and plays synth in the band. Dick, the lead singer now lives in Shaftsbury as do the two guitarists Ben and Jack, while Gaffa the drummer long time lives near by in the village of Manston. "Bongo Dave" joined the new band and plays congas and currently he lives in his van OYK, somewhere between Todmorden and Oxford. Alison "Sax Nuisance" Palmer-Smith lives in Oxford still, joined the band when it reformed, plays sax and gives vocal support.
The Geees are a well known Oxford band, all of their members live and work locally, including Gerry and Giles who live and work on boats on the river Thames and on the Oxford canal. The Geees are happy to support SOMA by playing in the top slot at the event., 6pm – 7pm.
Current itineray for the event is here in Adobe .pdf format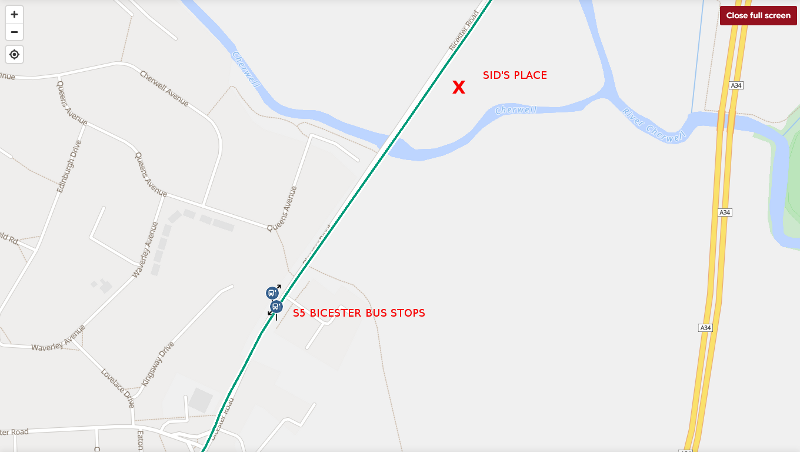 Above is a map showing the S5 Bicester bus stops on Bicester Road Kidlington. A red X marks the location of SID's land, on the right as you leave Oxford heading to Bicester.
Bus time table and parking information will be available shortly.
Important Booking Information: Unfortunately, the number of visitors places at the event is limited. Please ensure your reservation by making a donation of £10 per person via our on line system. See the link below. (or pay what you can afford on the day.)
Reserve your place by making your Donation here.
FUND RAISING
Please remember - this is a fund raising day for SOMA.
Apart from the attendance donation, we will be doing whatever we can to collect money on the day. We will be Shaking the traditional Bucket and holding an Art Auction. There will be a Raffle with prizes which have been donted by more sponsors and there will be works of Art for sale which have been made and donated by SOMA members, Dan Nasirpour Smith and David Urmston. Music CD's by the Barmy Army will also be on sale along with other "Merch", drinks and refreshments, etc.