SOMA Housing Co-Op News
March 2017
Homes for Oxford
Homes for Oxford is gaining fame as a local pressure group. Made up of other organisations that have been formed by people who are doing something about their own housing needs. The member organisations are two housing co-ops, Kindling and SOMA, the Oxford Co-housing group, Transition by Design architects and Oxfordshire Community Land Trust. We have all come together to combine our forces and skill sets, in order to provide affordable housing and alleviate the housing crisis which we currently see in Oxford
Here is a link to the Homes for Oxford web site
More details about the projects described below can be found on the Homes for Oxford web site.
Irving Building
The Irving Building is in East Oxford and is better known as one of the buildings on the site of East Oxford Primary School, which is behind Tescos on Cowley Road. The current project involves negotiating purchase of the building in order to convert it to affordable housing. In line with the groups "OPAL" policy, some of these flats/apartments will be social housing at affordable rents. It is hoped that SOMA will be able to put in a bid for some of these flats. This would enable us to house some of our members in the very near future and at a lower cost than taking on a full construction project. So fingers crossed, and if you are interested in this location and consider that it might be suitable for your housing needs, then you should state your interest at the next meeting.
Wolvercote Paper Mill Site
Prior to interest in the Irving Building, Homes for Oxford had put in a £16 million bid for the site of the old paper mill in Wolvercote. The plan was to build 190 affordable homes and including rentable social housing. This could have been great for SOMA, turning up and being included in someone elses plans. However, life isn't like that as you know. The facts are that once Oxford University (who own the site) discovered others were interested in purchasing, they offered the site to their friends in construction who made an unreserved offer of £20 million. So the Homes for Oxford bid failed and those involved have gone away to rethink the project as the new price screws any budgeting and costings previously developed.
A further development is the discovery of a potentially very polluted industrial waste dump on the site of the proposed development. So while hoping to raise £4 million more from the sale to one of their mates, in real terms the owner of this site could be liable for more than £4 million worth of toxic ground clean up before any other uses can be made of this part of the site. The fact is that getting involved in a toxic dump cleaning exercise is definitely much too much for Oxford PC Solutions to take onboard before we could build somewhere to live.
Oxfordshire Community Land Trust
As mentioned earlier Oxfordshire Community Land Trust are a group of people interested in providing land which is protected for providing housing. Their are a number of reasons why protecting land in Oxfordshire is necessary. Probably the first action I am aware of was to prevent the Highways Department from building the M40 motorway through the middle of Ottmore, which is now a protected nature reserve available for public use. Certainly the group has widened it's remit somewhat and is currently backing several affordable "OPAL" housing projects in Oxford. OCLT provide a driving and unifying force, as well as on tap professionals from local government, housing, sustainable design and development companies as well as other industries and businesses. Keep an eye out for their meetings which are open to anyone wanting to get involved.
Other projects of OCLT include the Dean Court Co-Operative sustainable development which is situated in Cumnor Village, another is Community Led Homes and another potential build at Eynsham Road. Visit the OCLT web site for more details.
Here is a link to the Oxfordshire Community Land Trust web site
Notice
It is vitally important that those members wishing to be involved do come along to have their say.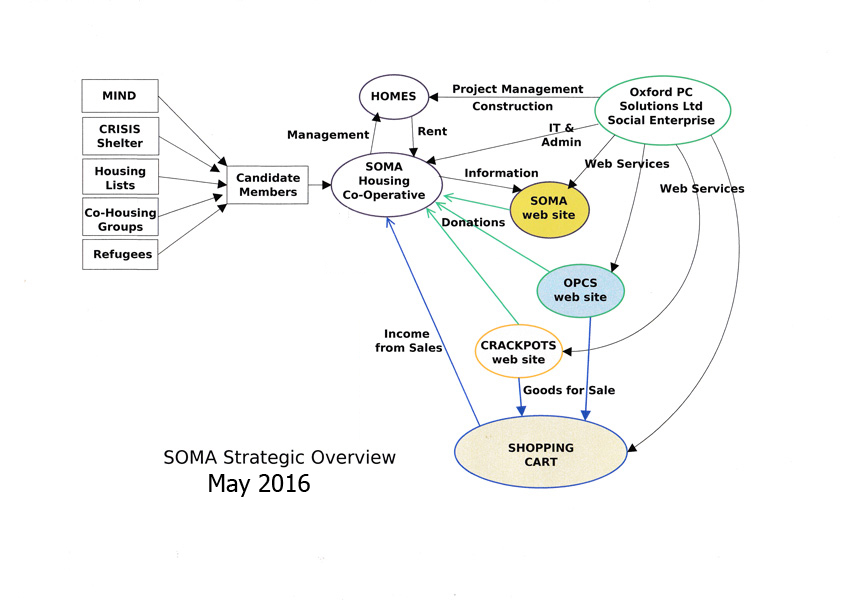 Above is a
A Flow Diagram showing in SOMA's Financial Strategy as at May 2016
page 1 page 2